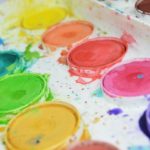 Participants will help work on art projects commissioned by the school such as murals, banners, and signage; as well as work on large scale projects designed for smaller group settings. Such advanced projects may include ceramics, sculpture, silk-screening, and photography.
Art club will meet on the 1st and 3rd Friday of the month before school at 7:45 am.
Sign-ups will take place Wednesday, September 20th. The sign-up sheet will be posted outside of the art room (801) at 8:45am. There will be 10 available slots for each grade level.
There is a $5 art supply fee that will be due on the first meeting day.