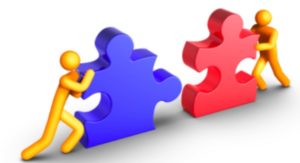 OotM promotes creative thinking by challenging teams to solve divergent problems. Through working together in teams, participants learn cooperation, the appreciation and understanding of others, and that a group is a more powerful thinking force than an individual. They develop a sense of self-respect and respect for others through preparatory activities such as brainstorming and role playing. The ultimate goal is for teams to present their problems' solutions in official competitions.
Parents coach teams of a maximum of 7 students. Meeting times will be determined by the individual parent coach. All teams compete at the regional's competition in March at Wingate University. Teams that place 1st or 2nd continue on to the state competition, and then to the World Tournament. In preparation for the tournament; teams must create a skit, build a set, and create costumes on a limited budget. They must do this in order to solve their problem in a timed performance in front of a panel of judges. They are not allowed to receive any outside assistance, including from the coach.
There will be an interest meeting on Tuesday, September 19th at 6:00 pm in the Media Center. Parents are needed to volunteer as coaches for groups of up to 7 students max per team.
The staff sponsor is Rebecca A. Mullis:  rebeccaa.mullis@cms.k12.nc.us