Invest In Your Child Annual Fund Drive
WHAT:  The Annual Fund Drive is Randolph PTO's primary fundraiser.  It allows you to make an easy, direct donation straight to the PTO general fund—nothing to sell, nothing to buy.  Donations you make support programs and events that directly benefit your child.
Campaign Goal:

$40,000
WHO:   Parents, guardians, grandparents, anyone who loves your student!
WHEN:   August 15, 2016 – February 28, 2017
HOW:   
 Check or Cash

:  Payable to "Randolph PTO" – Complete this donation form and return to school:
– Send to school office with your child, or
– Mail to: Randolph PTO – Annual Fund, 4400 Water Oak Road,  Charlotte, NC 28211
2.  Credit Card or Online:  Use the PayPal link at http://randolphpto.com/donate-with-paypal/.  Complete the donation form and return to school.
3.  How Much Should I Donate?
Here is a snapshot of 2015-16 donations. Every donation counts!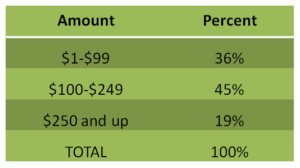 No gift is too small!  All gifts are tax deductible.
With corporate matching you can double your gift!  Contact your human resources department for details
Thank you for investing in our students and staff!
Direct Giving Chair: Robin Hill
Direct Giving Co-Chair: Laura Budzichowski